Back To Blog
When it takes longer to open your front door than usual or if you feel like your home is not secure, you might be tempted to sprint to the nearest hardware store and purchase new locks. You may even find some high-tech lock system that promises the best security for your home. Excited about trying it out immediately, you might even be tempted to do the installation on your own without any knowledge or expertise. However, unlike most DIY projects, lock installation is not for everybody.
Installations need skill and knowledge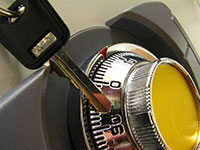 First question to ask – are you sure that the lock you bought is right for your home? There are different types of locks: mortise, cylindrical, digital and many more. The type of lock that is perfect for your home differs depending on the size of your home, the material it's made of or where it needs to be installed (external or internal). Unless you have vast knowledge about lock compatibility, then chances are you might install something that's not appropriate for your home.
In addition, lock replacement is fairly easy at the beginning. This is why most people don't realize what they're getting themselves into until it's too late. Say you've already drilled holes into your door frame, or you've removed your previous locks, and then you suddenly realize you can't do it. What happens then? You are left with a door that has no locks and holes in the wall. In the end, you can call a trusted residential locksmith like us to finish what you've started.
The importance of proper installation
Poorly installed door locks can mean security breaches, and even a house lockout. If you performed the installation yourself, who do you blame? However, if your locks are installed by us, you can be assured of a quality job. While DIY installations give you a sense of accomplishment, security is not something you can compromise at any point of time. Our experts can make sure that the job is done right the first time around and repair faulty installations done in the past.